Complete the following steps to be all good to go!
Frequently asked questions
How do i see the hours I have worked?
---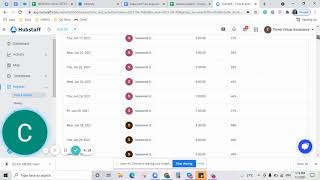 ---
How does payment work?
---
On your first payday (15th or last day of the month) send your full name, full address including zipcode and city, bank name, bank account number to Nat on Skype. Payment is sent on the 15th and last day of every month using Wise. Payment will be sent after shift in the late evening est time. Payment usually takes a few minutes to a few hours to arrive in your bank account.
---
Can I insert a video in my FAQ?
---
Yes! Users can add video from YouTube or Vimeo with ease:
Enter App Settings
Click the "Manage Questions" button
Click on the question you would like to attach a video to
When editing your answer, click on the video icon and then paste the YouTube or Vimeo video URL
That's it! A thumbnail of your video will appear in answer text box
---
How do I edit or remove the "FAQ title"?
---
The FAQ title can be adjusted in the settings tab of the App Settings. You can also remove the title by unchecking its checkbox in the settings tab.
---
---